Introduction to Futureproof Career Skills
A three-hour online course for KS4
A meaningful careers activity for every learner

NCFE Endorsed Programme

Certificates for CV and UCAS
Enrich your careers provision
School Benefits
Learner Benefits
3 hour online course
Accessible on any device, allowing students to engage at their own pace, anytime and anywhere.
Align passions to career paths
Helps students align their strengths and passions with essential job roles.
Engaging online format
Self-paced independent learning through animated videos, self-reflection and quizzes.
Gives learners a competitive advantage
Help students develop key skills like resilience for an edge in the evolving workplace.
Streamlined processes
Fast onboarding, easy progress tracking, evidencing Gatsby benchmarks and enhanced careers provision for OFSTED.


Endorsed Completion Certificate
Students receive an NCFE Endorsed Certificate for CV and UCAS personal statement
JOIN THE NATIONAL TALENT ACADEMY
The easy way to provide careers enrichment for every learner.
How it works
1.
School Onboarding
- we setup your school admin account and teacher accounts.
2. Simple Registration - CSV upload learner names and school email address.
3. Easy Access - links emailed to enrolled learners.
4. Website and Mobile - login at school or home (headphones recommended for classroom use)
5. Completion Certificates - PDF Certificates by email and online.
6. Progress Reports - teachers login to view and download learner progress reports.
7. Customer Support - fully supported by our Customer Success team.
Full course includes
3 Essential Futureproof Career Skills

2-Step Financial Freedom Blueprint

8 Portable Skills Needed in Every Industry

6-Stage Entrepreneurial Journey

NFCE Endorsed Certificate of Completion
Resilient Mindset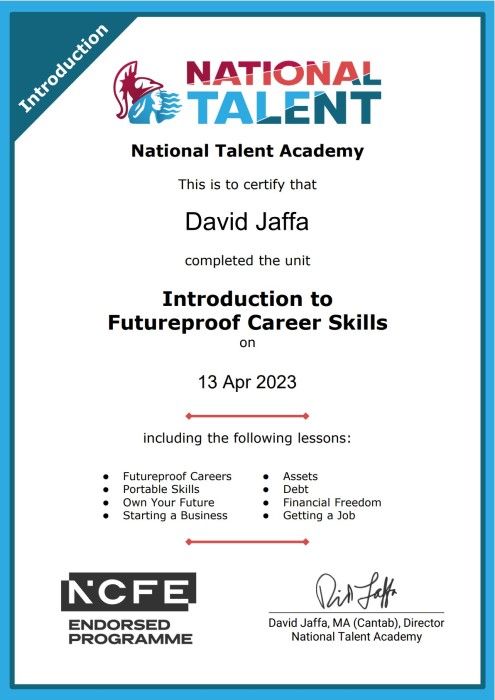 Cultivating positive attitudes and behaviours:
A positive view of the future of work.

Belief they can succeed, whatever the future may hold.

Belief they can control their own career success.

Commitment to work hard and push through barriers.

Self-knowledge of strengths and interests relating to work.
A few fan reviews...
I learned that my success is down to me. This course has shown me how it can be done. Now I'm excited for my future. FIVE STARS!
AHMED S (LONDON)
A few fan reviews...
I loved the lesson about financial freedom. I was worried about the future before. Now I'm confident. Yowsa.
SALI E (MANCHESTER)
A few fan reviews...
Students can work independently, in small blocks of time, within an on online environment supported by a National Talent Academy tutor (who was great). This saved me loads of time as the Head of Careers for a busy school.
CARL K (CAREERS LEAD, TOWER HAMLETS, LONDON)
JOIN THE NATIONAL TALENT ACADEMY
The easy way to provide careers enrichment for every learner.
Quality careers provision
Learning from career and labour market information
Skills and character qualities that will always be needed for work.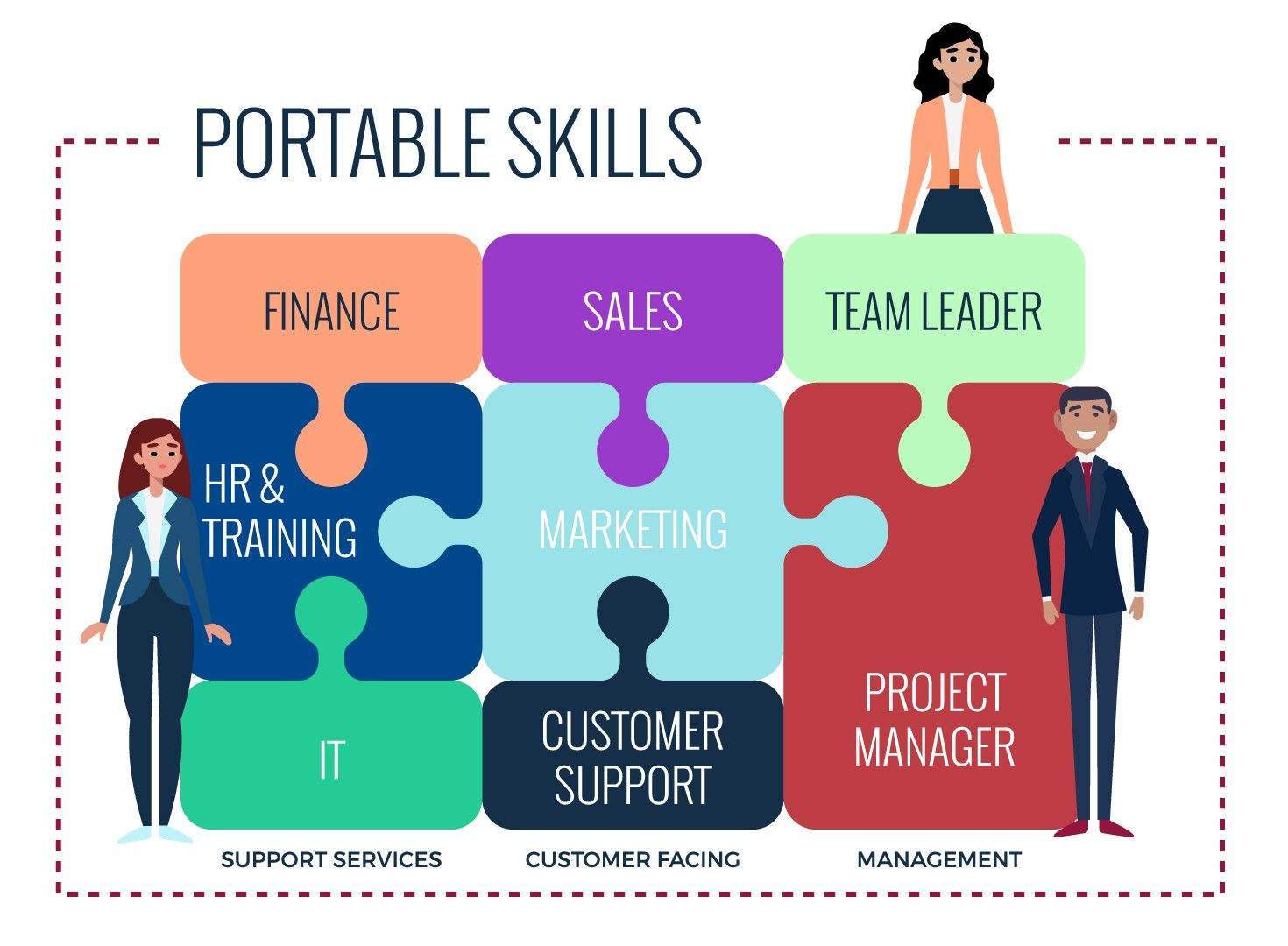 Addressing the needs of each pupil
Learners identify which of eight Portable Skills best suit their strengths and passions.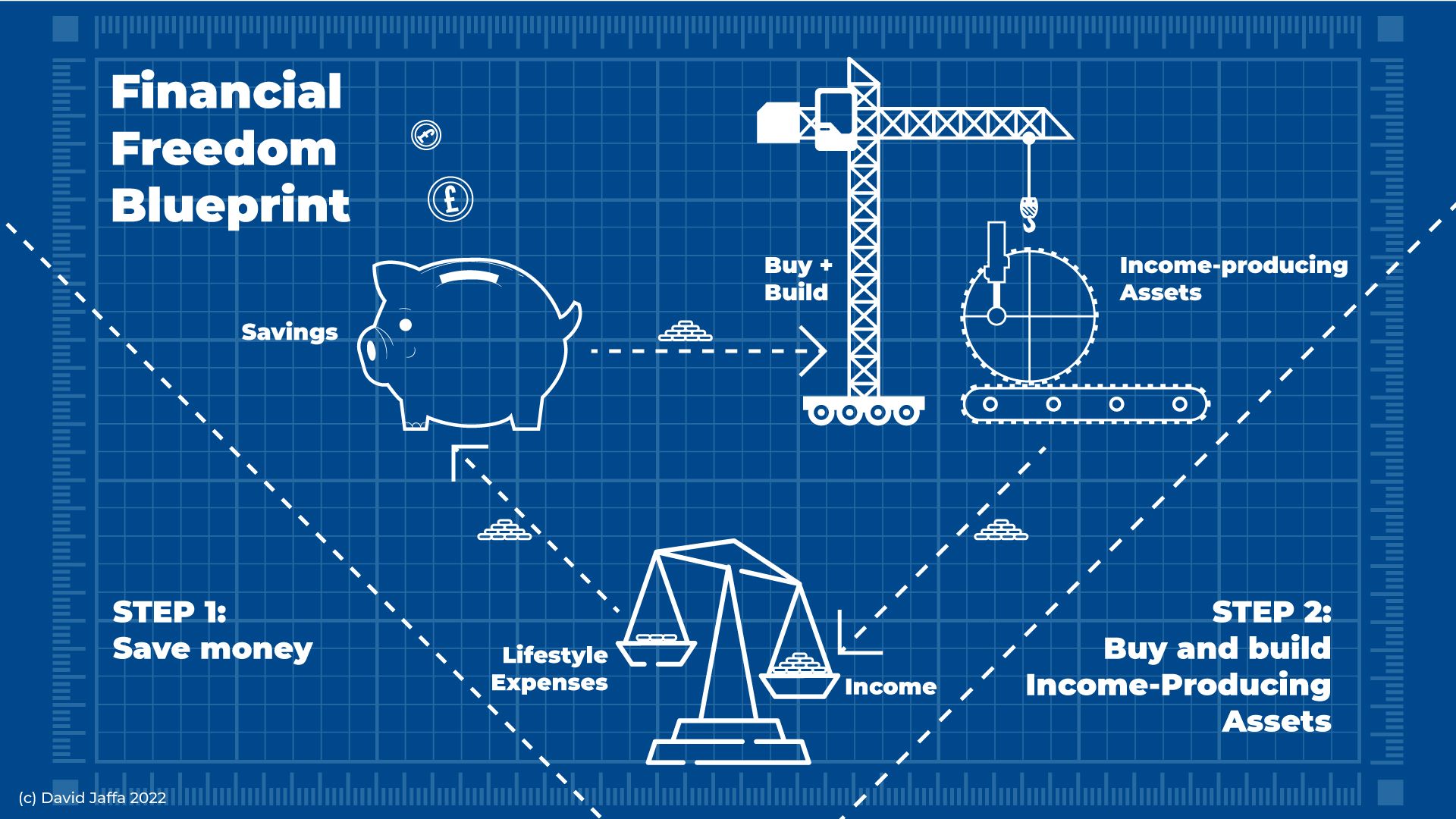 Living in the Wider World
Starting a business, assets, debt, managing your personal brand, getting a job and more.
Futureproof Careers Framework

Our three-part framework highlights skills and character qualities that will always be needed and valuable for work.
01
Portable Skills Discover eight Portable Skills needed in every industry.
02
Character Build the mindset of resilience and determination to overcome all obstacles in your path.
03
Assets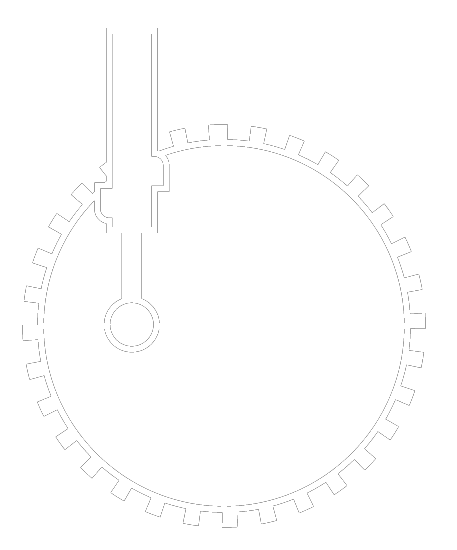 Learn how to build long term financial stability with our Financial Freedom blueprint.
JOIN THE NATIONAL TALENT ACADEMY
The easy way to provide careers enrichment for every learner.
Frequently asked questions
What is the purpose of the "Introduction to Futureproof Careers Skills" course?
The course aims to help learners develop employability skills, align their strengths with potential career paths, cultivate ambition, and provide them with a certificate of completion endorsed by the NCFE to enhance their job applications and university applications.
Is the course suitable for all learners or specific grade levels?
The course is designed for learners aged 14-19, covering a wide range of skills and career-related topics that are relevant to learners at various stages of their educational journey. Most schools subscribe to the course for use with year 10 and 11 pupils.
How does the course help learners explore potential career paths?
The course incorporates self-assessment exercises and career exploration activities to help learners identify their strengths and interests, allowing them to align them with various career options. This exploration helps them make informed decisions about their future pathways.
How does the course support schools in delivering comprehensive careers provision?
The course serves as a valuable resource for careers specialists and senior management teams. It provides a ready-made framework and materials, relieving the burden of creating career guidance programs from scratch. This allows careers teams to focus on providing personalised guidance and support to learners.
How long does the course take to complete?
The "Introduction to Futureproof Careers Skills" course is self-paced, allowing learners to progress at their own speed. The exact time it takes to complete the course may vary depending on factors such as the learner's learning style, prior knowledge, and the amount of time they dedicate to studying the course materials.
On average, learners complete the course within 3 hours, but it's important to note that learners have the flexibility to take longer if needed. The course is designed to be comprehensive yet manageable, providing a balance between depth of content and a reasonable time commitment. This flexibility ensures that learners can effectively absorb the material and engage with the course at a pace that suits their individual needs.
Do learners receive a certificate upon completion of the course?
Absolutely! Learners who successfully complete the course will receive a certificate endorsed by the nationally recognised awarding body, NCFE. This certification holds significant value and can be included in job applications, CVs, and university applications, showcasing their commitment to personal and professional development.
Is there any teacher involvement required?
The course is self-directed and requires minimal teacher intervention. Teachers are only required to distribute the course details and monitor learners' progress. This allows for flexible implementation and doesn't burden teachers with additional scheduling or timetabling.
How can schools subscribe to the "Introduction to Futureproof Careers Skills" course?
Schools interested in subscribing to the course can reach out to the National Talent Academy through our website or contact
[email protected]
for more information on the subscription process and pricing details.
Yes, we offer a free trial of the "Introduction to Futureproof Careers Skills" course. It's a great opportunity for you to explore the course content, features, and benefits before making a commitment. During the trial period, you'll have access to the full course, allowing you to experience its quality and suitability for your learners. The only obligation at the end of the trial is to decide if you want to purchase a subscription for your learners. Please visit our website or reach out to us at
[email protected]
, and we will be happy to assist you in getting started with the trial.
Is the course accessible on different devices?
Yes, the course is designed to be accessible on any device, including computers, tablets, and smartphones. Learners can learn anytime, anywhere, making it convenient for both in-class and remote learning scenarios.
Can the course be integrated into existing school career programs?
Yes, the course can be seamlessly integrated into existing school career programs. Its comprehensive content and flexible nature make it a valuable addition to enhance the school's overall career education provision.
Does the course cater to learners in areas with limited local industry opportunities?
Absolutely! The course is designed to empower learners regardless of their geographical location. It provides a broad range of career-related skills and knowledge, ensuring learners can thrive even in areas with limited local industry opportunities.
Is the course curriculum aligned with national educational standards?
Yes, the course curriculum is designed to help evidence the delivery of Gatsby Benchmarks within your school. For additional information click below.
Is ongoing support available for teachers implementing the course?
Yes, we provide comprehensive support for teachers implementing the course. We offer training resources, implementation guides, and dedicated support channels to ensure a smooth and successful integration of the course into your school's curriculum.
How do I get more information?
If you have any questions or need further assistance, our dedicated support team is here to help. Feel free to reach out to us at
[email protected]
.